This is an oldie but goodie I'm reposting for this week's: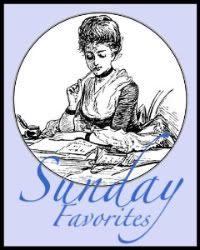 Chari at Happy to Design hosts a party each Sunday encouraging guests to repost an archived favorite. This week, I chose my Glazed Coconut Cake (posted back in May). ooo, I just wish I had a slice right now. I may have to remake this soon!
I've been craving anything coconut lately. It's odd because I don't remember EVER craving that before. Anyway, I made this A. MAZ. ING. coconut cake and wanted to share just incase you need your coconut fix too. It fed any craving I had and then some. It's so delicious!
There are three main parts…
(1) Cake
(2) Glaze
(3) Frosting/Topping

*******************
(1) Cake:
2 C Cake Flour
1 1/2 tsp Baking Powder
1/2 tsp Salt
1 1/2 C Sugar
1/3 C Butter, room temp
2 Eggs
1 (14 oz) can Coconut Milk
1 tsp Vanilla
Preheat oven to Sift together flour, bp, and salt. Whip the butter and sugar (I mean WHIP the butter and sugar) for about 5 minutes. Add eggs, one at a time. Alternate adding milk and flour mixture. Add vanilla. Pour batter into greased AND FLOURED!!! 8-9″ pans. Bake 25 minutes.
Don't forget to flour your greased pans!
Let cakes cool for a few minutes in the pans, then transfer to a cooling rack.
(2) Glaze
1/3 C Butter, melted
1/3 C Coconut milk
Mix ingredients together in a pourable measuring cup. While the cakes are cooling on the rack, poke them with a fork about 20 times. Pour a mixture of melted butter and coconut milk over the cakes. They'll absorb the liquid very quickly so be ready to spread it across the cakes.
(3) Frosting
Here's the fun part! I got a little crazy with the icing and it sure payed off! Instead of making a basic buttercream with just butter, I replaced about half of the butter with
coconut oil
. Oh my heavens! Why have I never done this before?!? There really isn't a recipe for the icing. It's a mixture of butter, coconut oil, powdered sugar, vanilla, and coconut milk.
Toast about a cup of sweetened coconut in the oven or on the stovetop. – Just until golden. Refrigerate the warm flakes until they're cool. Anything warm will melt the frosting.
Frost the cakes with the coconut frosting and top with the crunchy coconut flakes.
This is officially my new favorite cake. It's melt-in-your-mouth-and-make-you-close-your-eyes delicious! Yes, it's unbelievably fattening and rich but it's OH SO GOOD!